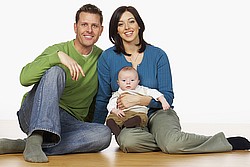 "We were impressed with John from the minute we met him. He was obviously dedicated to his work, and although his price wasn't the lowest, we were confident that he would be the best. We made a decision to have our birch and maple floors re-finished before moving into our new home. Despite some logistical challenges associated with this decision (we didn't always have access when we thought we would) John's team was always professional and understanding, even when plans needed to be changed. We very much appreciated their helpfulness throughout the job – and absolutely love our floors. They managed to sand them without producing dust (!!) and stained and finished them to our exact specifications. We are often complimented on how they look and we always respond by saying that we know the best hardwood floor man in town."
Adam Radomsky, Montreal
–
"My wife and I decided it was time to put real hardwood floors into our newly built home.
John took the time to show us many samples and explain the variations between each type of flooring. With his competitive prices and detailed explanations we chose hardwood floors with Genesis. We were very impressed with their clean work ethics and punctuality! Even after the floors were finished, John still kept in touch and explained that if we had any questions, we could call him anytime.
Thank you Genesis, for making our home more beautiful and a great home to live in."
Oleg and Christina Petrov, Beaconsfield, Quebec
–
"Twice in the past, we had refinished our 32-year old oak floors. We were in no way looking forward to subjecting ourselves to the dust and odors of traditional crystal finishes. A trusted contractor referred us to John who in turn proposed we use a product called "Bona Traffic" on our floors and promised us "dust-free" sanding. Not completely convinced (mainly because of the proposed price) we decided to take the plunge, particularly because of the ecological qualities of the products. We have not regretted our decision. John and his team worked rapidly and efficiently and within a few days we found our floors completely smooth and more beautiful than ever. The colour and warmth of the natural wood was enhanced and given a new silky finish. Our floors were perfect. However we did have a small problem with grains on the stairs. John proceeded to work on the problem until we, and he, were completely satisfied. As for the dust, there was hardly any, no more than after returning from a long vacation. Now we hope to enjoy our beautiful hardwood floors for many years to come."
Friederike et Berge, Saint-Basile, Quebec
–
"Genesis Flooring recently sanded, stained, and finished my old oak floors. The work was exceptional in every way – they arrived on time, provided me with on-site samples of what the floor would look like, took care of details, stuck to their price quotation, and the job was unbelievably dustless! The result was really beautiful. I am a professional living in adjacent Westmount and see clients here – it was very important to me to have a result that respected the original quality of my home. Thank you."
Harvey Giesbrecht, Montreal, Quebec
–
"John we are grateful that you and Spiro made the time for us on such short notice and with so much to do before your trip.
Of all the services required to date Genesis service customer and quality have been the best by far.
Many thanks to both of you, my regards to your wife and best wishes for a splendid vacation."
Sincerely,
Genevieve Torrico
–
"Seven months ago, John and his team sanded and refinished the oak floors in our new home. At the time, my husband and I had been unsure whether or not we should have this job done prior to moving in. Overall the floors looked ok, but they had not been well taken care of by previous owners and there were numerous marks, scratches, and worn areas that detracted from their overall appearance. We were also concerned that the existing finish was not doing its job of protecting the wood underneath. Our main reason for hesitating to get the job done, however, was that no one we knew was able to give us a personal recommendation for a company that specialised in flooring. Needless to say, we were anxious not to spend time and money only to be dissatisfied with the results. I had, however, done some research and had concluded that Bona Traffic – despite costing more than many other finishes – seemed most likely to provide us with the durable and natural-looking finish that we wanted. I was also looking for a VOC-compliant product that was Greenguard certified for indoor air quality, and Bona Traffic fulfilled this requirement as well. Then I came across Genesis Flooring's website: I liked its emphasis on minimising dust, as well as its commitment to telling clients "exactly what can be done and what cannot be done," so – when I noticed that one of the reviews mentioned that Genesis Flooring had experience working with "Bona Traffic" – I decided to give them a call. From our very first conversation with John on the telephone, we knew we were in good hands. As promised, he gave us a very clear idea of what could and could not be done, discussed our various options, provided us with an estimate, and let us know what to expect in terms of changes to the appearance of our floors (the oak would look more natural and less yellowy; the finish would not be super-shiny, etc.). By this time, we had already had our new home repainted and John made it clear to us that while his team would do everything in their power not to damage the paintwork this was not something that he could absolutely guarantee. The outcome? John and his team completed the job exactly as they said they would, left minimal cleanup, and avoided damaging the new paintwork (even though it clearly would have made their lives much, much easier if we had waited to have our skirting boards painted afterwards). With one coat of Bona DTS (Deep Tone Sealer) and two coats of Bona Traffic (satin), we are very pleased with how our floors now look and would like to thank John and his team for all their hard work."
Roz & Joe, Montreal